Omesam Cardio contains a unique and strong combination of active ingredients that help to protect the heart and circulatory system.
Each capsule consists of 800 mg of the ethyl esters of omega-3 fatty acids (700 mg EPA and 100 mg DHA), 30 mg of Coenzyme Q10 (ubiquinone) and 0,15 mg of Astaxanthin.
EPA/DHA substances are called Omega-3 polyunsaturated fay acids and it has been proved that they have a protective efect after a heart attack and they lower the levels of triglycerides (fat-like substances) in the blood.
Astaxanthin serves as one of the most powerful antioxidants that can be absorbed by the human body. It is beneficial in relieving oxidative stress throughout the body. Astaxanthin possesses 550 times the antioxidant power of vitamin E; 6000 times the power of vitamin C. Omesam Cardio contains standardized astaxanthin extract AstaZine™.
CoQ10 helps to protect the heart and vessels from the damaging effects of an oxidative stress.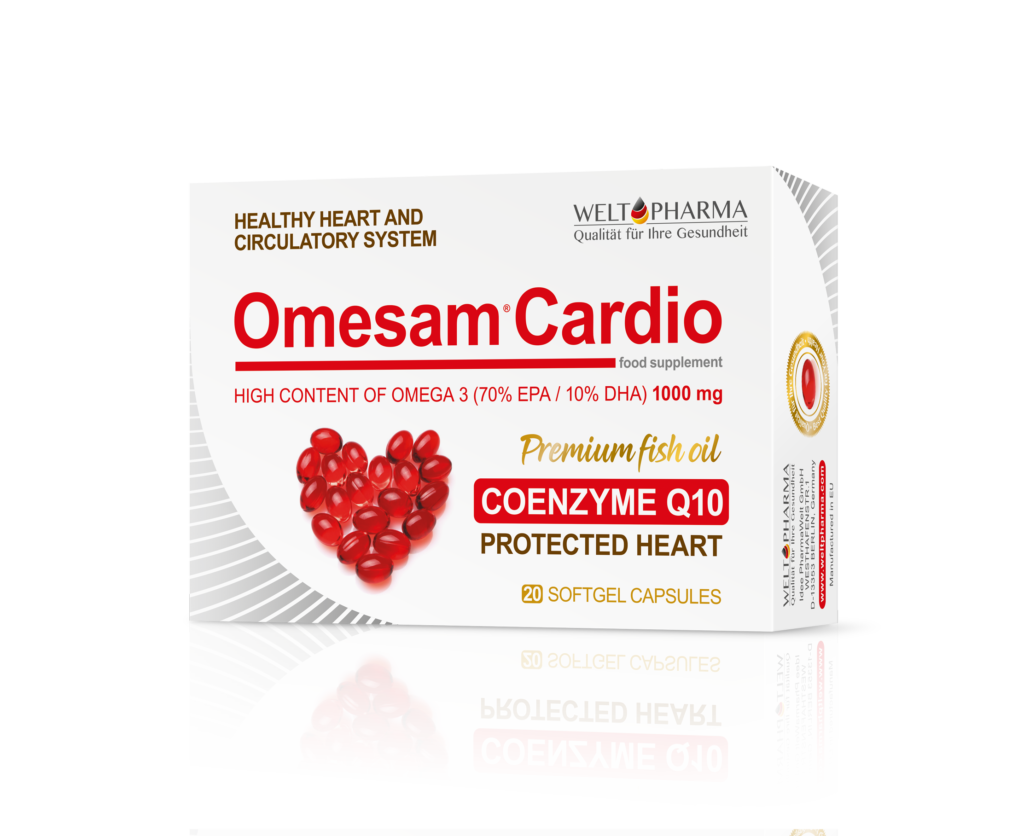 What is OMESAM CARDIO used for?
Helps to decrease high levels of triglyceride in the blood. In combination with medicines and diet, Omesam Cardio's active ingredients help to keep the heart and the circulatory system safe, especially after a heart attack as well as prevention in the states of elevated cholesterol or coronary artery disease and atherosclerosis. These ingredients are also recommended for supplementation during recovery from heart disease. 

In case of heart disease, consult your doctor.

Additives: bovine gelatin; glycerol (E422) – humectant; purified water.
Storage conditions: Store in a closed container, in a dry place, at a temperature of 5-25°C. Protect from direct sunlight. Keep out of reach of children. Do not use if you are allergic to any of the ingredients. This supplement is not
a substitute to a varied diet.
Dosage: 1-2 capsules a day.