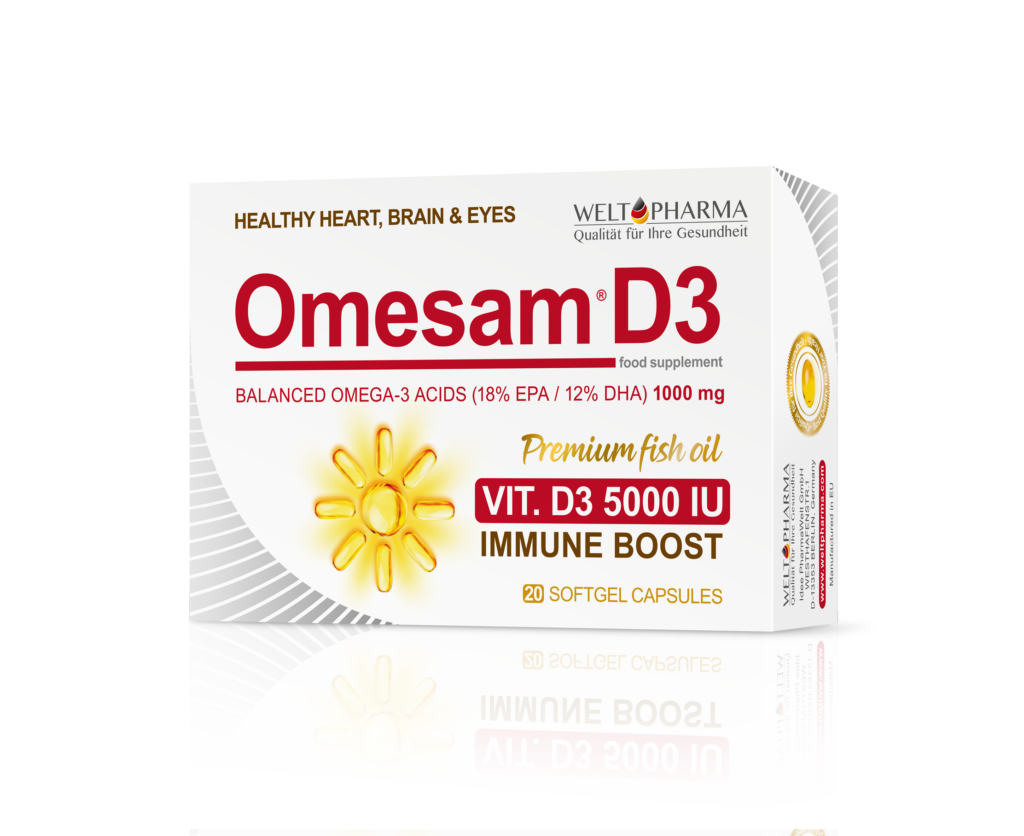 OMESAM D3 is the perfect combination of OMESAM 1000, valued for years, enriched with Vitamin D3, in 3 different doses, strengthening the body.
OMESAM D3 occurs with Omega-3 1000mg and 3 different contents of vitamin D3 – 1000, 2000, 5000 IU. Choose your OMESAM D3 or ask your pharmacist or doctor for your perfect Vit. D3 supplementation.
Omesam D3 contains balanced Omega 3 1000 mg and 3 different doses of vitamin D3, which properly strengthen the body. Basic Omesam D3 1000 IU for children and people who spend a lot of time in the sun, main Omesam D3 2000 IU for adults working a lot in rooms without access to the sun. Omesam D3 5000 IU for people with bone problems, the elderly and people living in large cities where the air pollution of the limiter has access to light.
OMESAM D3 contains high-quality concentrated cold-water marine fish oil.
The results of numerous clinical studies have shown that the administration of Omega-3 acids has a benecial efect on maintaining the proper functioning of the body.
OMEGA 3 acids affect many functions of our body and support the proper functioning of the brain, heart, eyes and the proper development of the child.
Read more about Omega-3 influence on your body.
Since it is dificult to obtain a suficient level of fatty acids Omega-3 and Vitamin D3 with the daily food, it is worth using special supplements, such as OMESAM D3.
Vitamin D3 is an indispensable part of human nutrition and provides absorption in the body of calcium and phosphorus. 
In many clinical studies, Vitamin D3 was found to be involved in regulation of cell proliferation, metabolic processes and the stimulation of dierent hormones. The intake of supplements containing Omega-3 fatty acids is also recommended during pregnancy and breastfeeding, which contributes to the correct development of the brain and bone system of the child.
Composition: 1000mg fish oil with OMEGA-3 – 300mg: 18% EPA 180mg/ 12% DHA 120mg
3 different ingredients and Vitamin D3 content
OMESAM D3 1000 IU, OMESAM D3 2000 IU, OMESAM D3 5000 IU.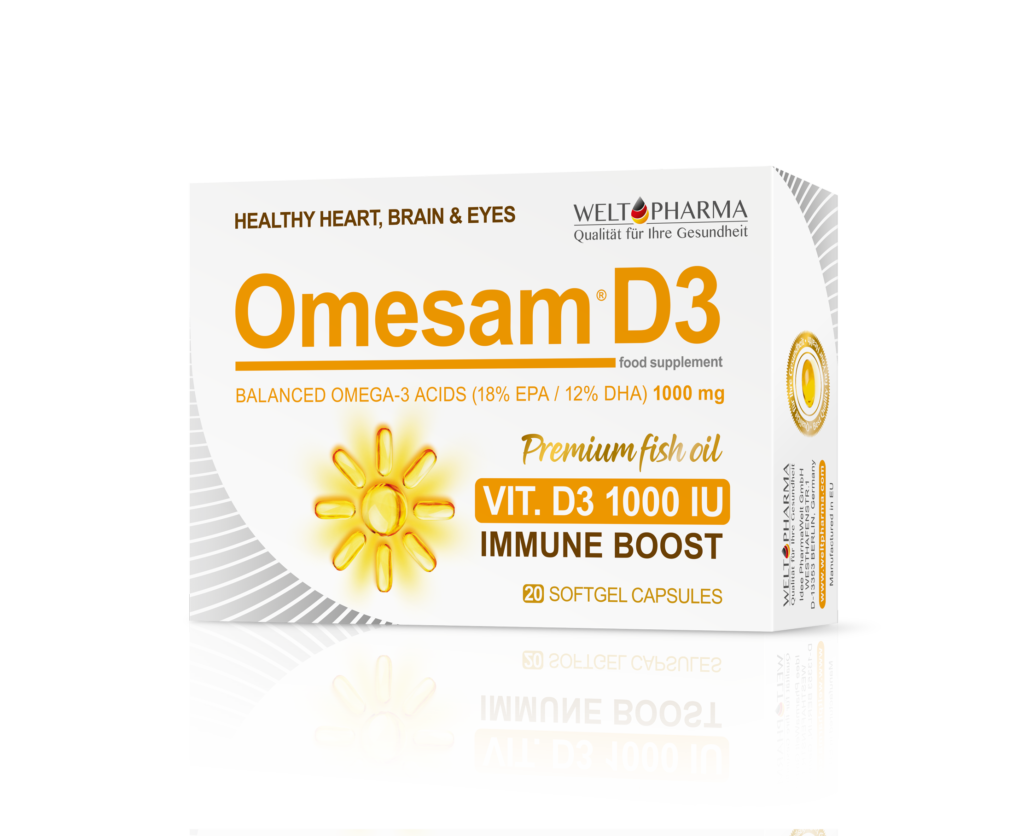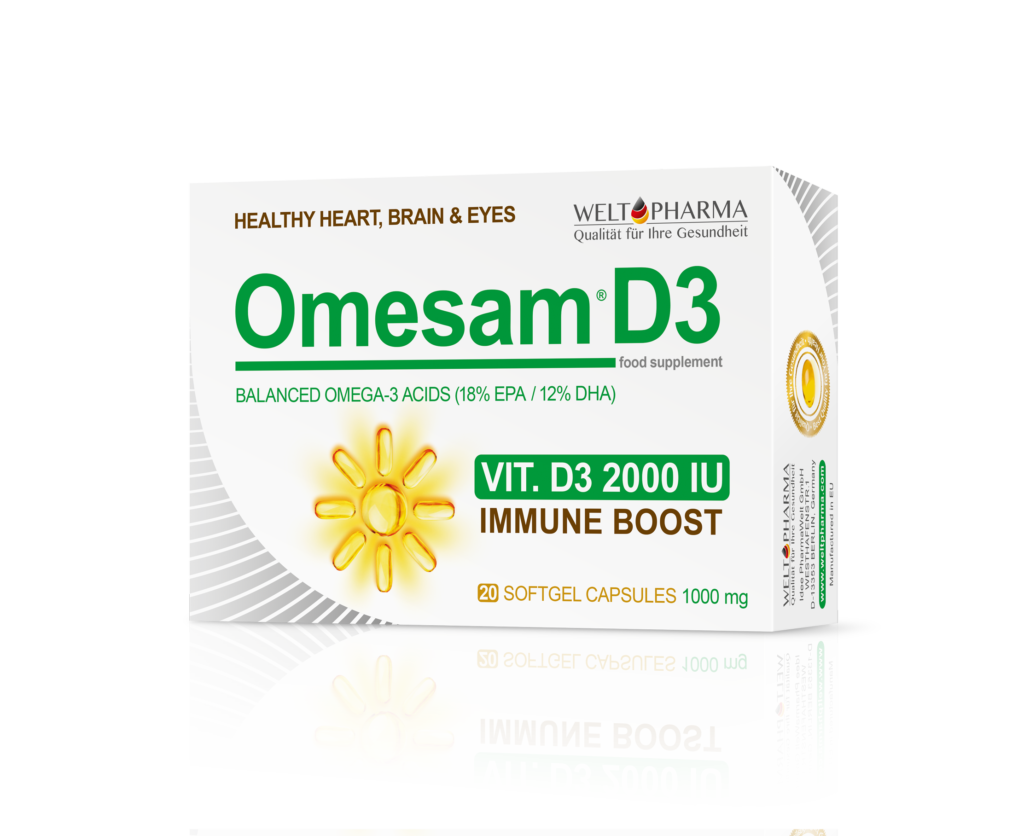 Dosage: 1-2 capsules a day, orally.
Package: 20 softgel capsules.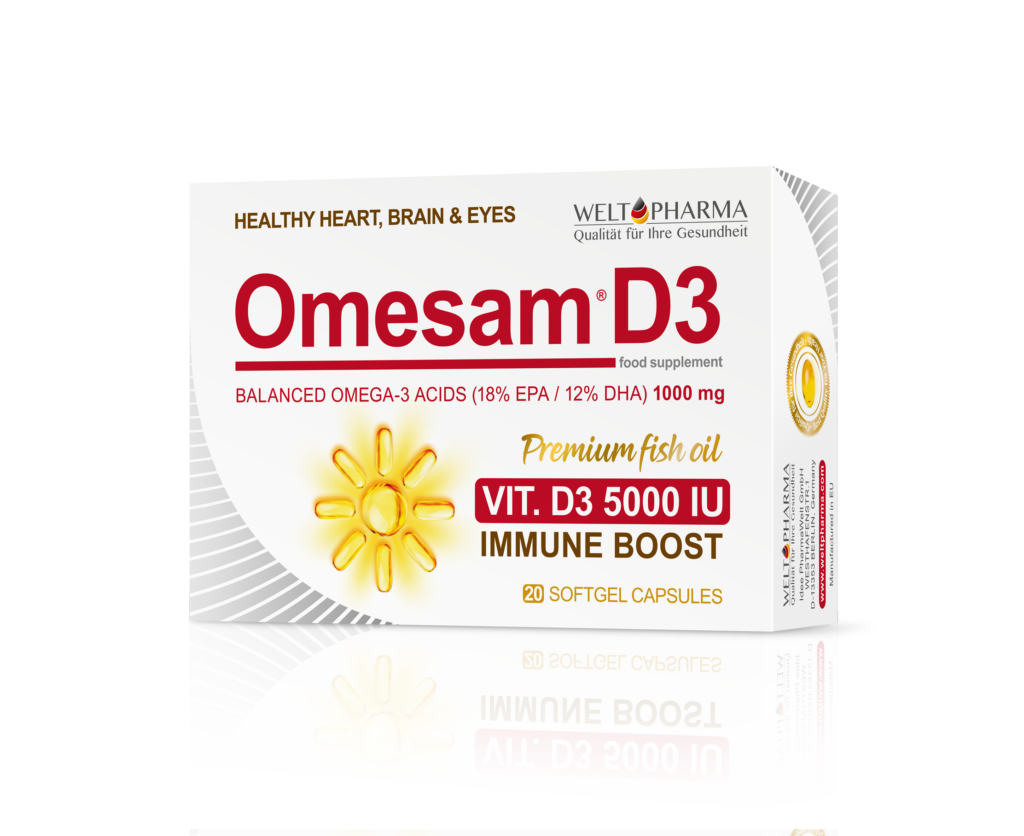 In severe heart disease, ask your doctor for advice on how to use OMESAM D3.
Store at room temperature in a closed container. Avoid direct sunlight.