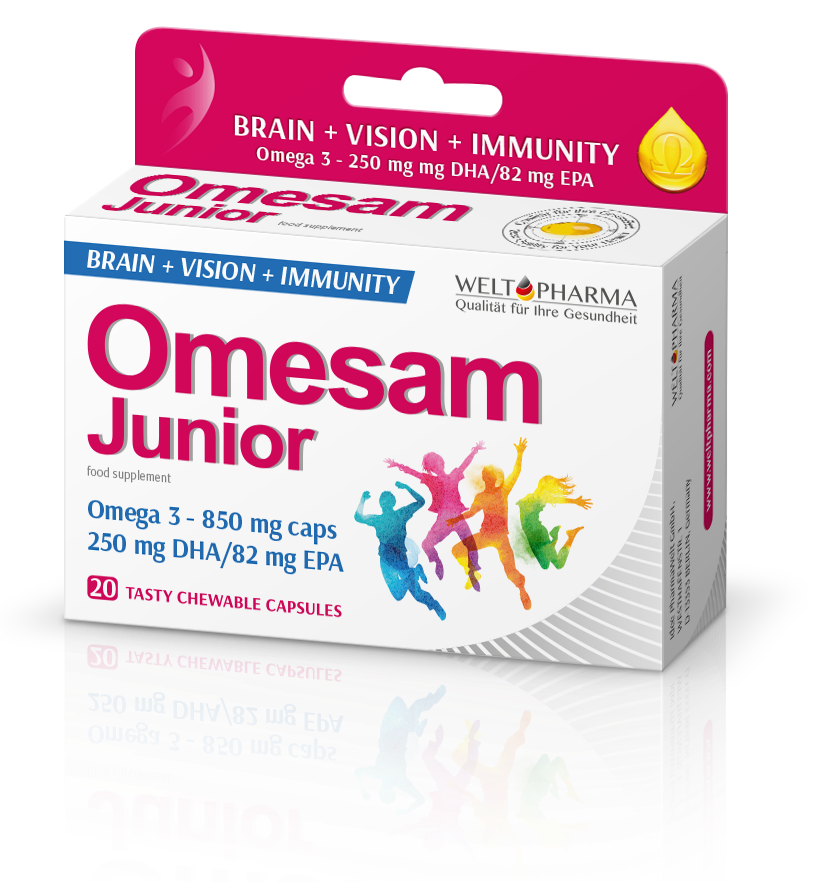 Omesam Junior 850 consists of DHA 250 mg and EPA 82 mg.
It has been proved that Omega-3 have effect on better, healthy development and functioning of child's brain, vision and also immunity.
DHA is the predominant omega-3 polyunsaturated fatty acid found in the brain and can affect advantageously neurological function. Ultimately lead to overall better development, maintenance and aging of the brain and vision, resulting in optimal cognition and learning ability.
The results of numerous clinical studies have shown that the administration of Omega-3 acids has a benecial efect on maintaining the proper functioning of the body.
OMEGA 3 ACIDS affect many functions of our body and support the proper functioning of the brain, heart, eyes and the proper development of the child.
What is Omesam Junior used for?
Helps in better development and functioning of a child's brain and vision.
Dosage:
Children over 6 years old, 1 capsule a day.
How to use?
Bite the capsule and chew it
Doctors advice:
In specic cases, ask your doctor for advice on how to use Omesam Junior.
Storage:
Store at room temperature. Away from children. Avoid direct sunlight.
Package:
20 tasty chewable capsules.