Fish oil with omega-3 fatty acids present in Omesam isn't the only thing from the ocean that can improve function in the human body.
Astaxanthin is a naturally-occurring carotenoid found in algae, shrimp, lobster, crab and salmon and gives salmon pinkish color.
Astaxanthin is stable antioxidant, unlike other antioxidants, such as beta carotene, zeaxanthin, vitamin E, C, D and selenium, astaxanthin never becomes pro-oxidant in the body.
Astaxanthin is 6000 times stronger than vitamin C, 800 times stronger than CoQ10, 550 times stronger than Green Tea Catechins and 75 times stronger than Alpha Lipoic Acid (ALA).
An antioxidant, astaxanthin is linked to healthier skin, heart health, joint pain, and may even have a future in cancer treatment.
CARDIOVASCULAR SUPPORT – clinical trial results:
Astaxanthin improves blood lipid parameters:
Inhibits LDL cholesterol oxidation,
May contribute to the prevention of atherosclerosis,
Improves blood flow rate,
Decreases heart rate of athletes when doing endurance training.
BRAIN HEALTH – clinical trial results:
Prevents age-related decline in cognitive function,
Improves psychomotor function in elderly subjects,
Improves marker for dementia in middle-aged and senior subjects and may,
contribute to the prevention of dementia from aging,
Improves cognitive function in healthy middle-aged and elderly subjects,
Decreases mental fatigue and confusion,
Improves erythrocyte antioxidant status to help transport oxygen to the brain.
IMMUNE SYSTEM MODULATION – clinical trial results:
Improves a variety of immunity markers in subjects
Increases the total number of antibody-producing B-cells,
Amplifies natural killer cell cytotoxic activity,
Leads to increased number of T-cells,
Stimulates white blood cell counts,
Significantly increases delay-type hypersensitivity response,
Dramatically reduces DNA damage,
Raises immunoglobulin levels in healthy athletes,
Suppresses lymphocyte activation in patients with allergic rhinitis and
pollen-related asthma,
Leads to therapeutic improvement in patients suffering from auto-immune disease.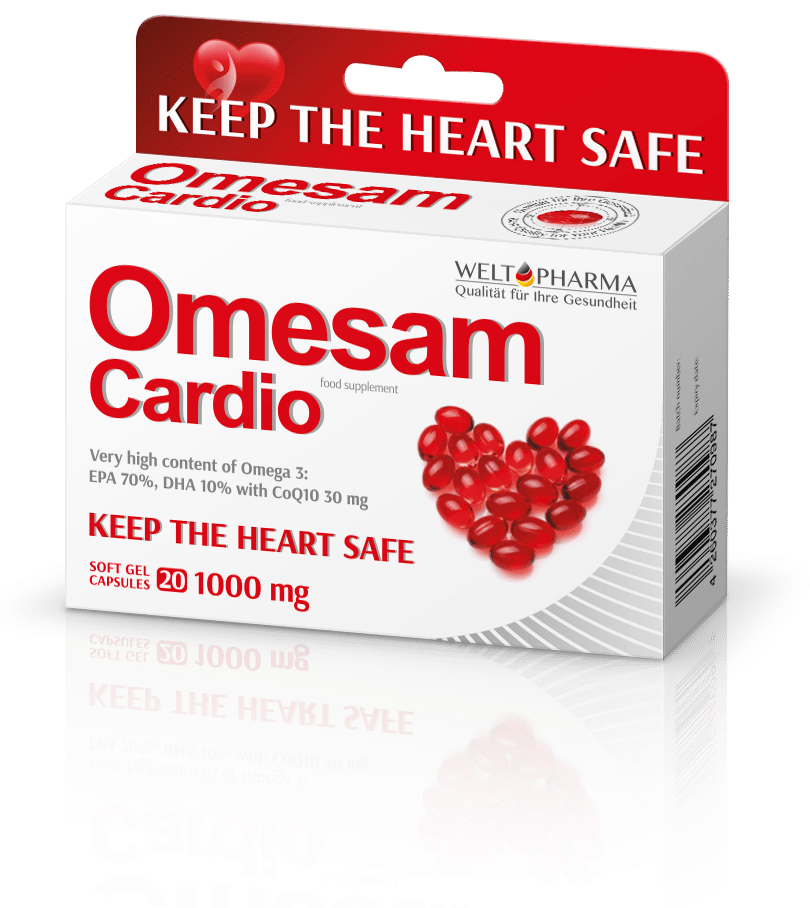 Astaxanthin – health from the sea now in OMESAM CARDIO together with special blend of Omega 3 acids and CoQ 10.
Astaxanthin in OMESAM Cardio comes from standarized extract AstaZine.